Sealing foam in the therapy of truncal varicose veins?
Sealing microfoam is a further development of the microfoam generally used for sclerotherapy. With the success of  sealing varicose vein, the idea was close to further develop the microfoam. The sealing of veins has already been carried out in many German hospitals in the 1930s.
The well – known technical and chemical possibilities, combined with the microfoam therapy practiced for 20 years almost inevitably lead to a combination of these techniques. Sealing microfoam is one of the possible variations.
Microfoam therapy for 80 years
The microfoam for the treatment of varicose veins has been known since 1938. It was established in the 90s as a solid therapy of varicose veins and spider veins. The treatment management of the varicose disease was clearly facilitated and the therapy was gentle.
And nothing new had to be looked for, and there were already clinical experiences from the 1950s.
Microfoam Gold standard for treatment of reticular veins and spider veins
Since 2010, the United States Food and Drug Administration (FDA) has also approved micro foam therapy with the use of an aethoxyclerol foam to treat varicose veins and declared it the "gold standard" for spider veins and retinal vein therapy. In Germany, the first guideline on sclerotherapy was published in 2001. It has been updated in the years 2003, 2007 and 2012 especially with regard to the micro foam therapy.
In microfoam therapy, the drug ethoxysklerol is foamed with sterile air fine bubbles and injected by means of a fine catheter into the vein. Depending on the therapist, there are ticks and tricks for refining the microfoam. Also, various additives are now added to the microfoam.
This further increases the effectiveness on the one hand. On the other hand, we want to prevent the dreaded pigmentation streaks.


Greater saphenous vein after sealing with Sealing foam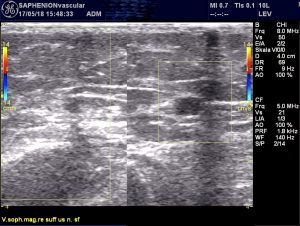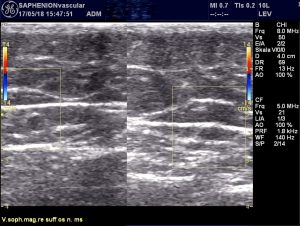 Sealing foam of GSV r. ( diameter of the GSV 0,9 cm )
Our Results about 25 month sealing foam of truncal varicose veins
Since December 2006, we have successfully completed 12595 microfoam sessions – after moving to IHZ Berlin.
In the last 25 months (5/2016 – 6/2018) – after the entry of the micro foam specialist Dr. med. Martell in our practice – performed at Saphenion 3175 microfoam treatments. In 161 cases, truncal varicose veins were treated. These were GSV in 66 cases, SSV in 48 patients, and VSAA in 44 cases. In addition, the giacomini – / femoro popliteal vein was ablated in 41 cases.
The average age of patients in this therapy group was 44 years (19-78 years). It was 1% – 3% Ethoxisklerol used and foamed with a long-standing in medical use adhesive sterile liquid. The treatment duration was on average 12 min. (5-15 min), anesthesia was not necessary in any case.
Simultaneous therapy on both legs or side branches and spider veins may be possible if the maximum values ​​recorded in the guidelines for micro – foam therapy are not exceeded. The preoperative diameter of the varicose veins was 4.8 mm (2.8 mm – 10.5 mm). The diameter of the treated veins 6 months after sealing foam was 2.46 mm (0.8 mm – 7.2 mm).
Therapy access after Sealing Foam
Sealing foam – therapy was 100% successful in incomplete truncal varicose veins of GSV and SSV.  All veins were closed after 25 months. Nearly the same applies to the complete SSV. Again, the occlusion rate was 95%. Therapy of the complete GSV showed a closure rate of 93%.
Side Effects after Sealing Foam
Side effects were extremely rare. In about 1% of all cases we saw a brown discoloration (ecchymosis) over a long time. In one case puncture ulcers developed after external wound treatment with ointments and gel. In no case were post – therapeutic phlebitis or deep venous thrombosis to be seen (thrombosis prophylaxis only once intraoperatively).
Also, the neurological complications known from thermal procedures were not reported by our patients.
Our Experiences
Although the Sealing Foam is also suitable for varicose veins of larger diameters (truncal varicose veins), however, in our experience a very good therapeutic effect up to a vein diameter of 6 mm is safe. For all larger diameters, the use of sealing microfoam is also possible and effective, but the use of venous glue VenaSeal, laser or radio wave is currently considered safer. Here, however, the next 12 months will bring a further boost in experience, since we clearly push ahead with the use of Sealing Foam.
links:
http://www.ejves.com/article/S1078-5884(15)00097-0/abstract
http://www.ejves.com/article/S1078-5884(15)00097-0/abstract
http://www.der-niedergelassene-arzt.de/fileadmin/user_upload/zeitschriften/vasomed/Artikel_PDF/2017/01-2017/Murena.pdf
http://www.ncbi.nlm.nih.gov/pubmed/26557230
http://www.phlebology.de/leitlinien-der-dgp-mainmenu/280-leitlinie-zur-diagnostik-und-therapie-der-krampfadererkrankung
http://gesundheitsnews.imedo.de/news/1017861-krampfadern-minimalinvasive-therapien-auf-dem-vormarsch
http://van den Bos R. et al. : Metaanalyse randomisierter klinischer Studien und Fallserien, J. Vasc. Surg., 2008, Aug.8
https://www.ncbi.nlm.nih.gov/pubmed/28892412
https://www.ncbi.nlm.nih.gov/pubmed/29629358
Bier,Braun Kümmel: Chirurgische Operationslehre, begründet. von F. Sauerbruch; Johann Ambrosius Barth, Leipzig; 1958