Venaseal vs. Radiofrequenz
Wir berichten über 5 – Jahres – Ergebnisse in einer eigenen retrospektiven Vergleichsstudie mit der VenaSeal® Closure – Technik an 2202 Stammvenen (1515 Venae saphenae magnae (VSM), 570 Venae saphenae parvae (VSP)) versus Radiofrequenztherapie (RFITT®) an 282 Stammvenen (181 VSM, 101 VSP). Im vorliegenden Bericht werden erneut die Vor – und Nachteile beleuchtet und die 60 – Monats – Ergebnisse einer klinisch ambulanten Single-Center-Studie dargestellt.
Summary
We report about 5 – years-results in a large retrospective comparative study with VenaSeal® Closure System in 2202 veins (1515 GSV), 570 SSV versus RFITT in 282 veins (181 GSV, 101 SSV). Our scientific paper compares advantages and disadvantages of both methods again and represents the 60 – month – results of an ambulant single – center study.
Einführung in die endovenösen Therapieverfahren
Seit nunmehr 19 Jahren wird die Varikosis zunehmend endovenös therapiert. Stand am Anfang das recht umständliche VNUS® Closure-Verfahren und der einfacher bedienbare Linearlaser. Folgten 2006/2007 der bipolare RFITT®-Katheter und das VNUS® ClosureFast System sowie der Radiallaser. In den letzten Jahren wurden somit viele Erfahrungen in der endoluminalen endovenösen Therapie gesammelt, Qualitätskriterien festgelegt und Standards für die verschiedenen Techniken entwickelt. Vor 16 Jahren begann zudem abseits der thermischen Therapiekonzepte von Radiowelle und Laser die Entwicklung einer gleichwohl faszinierend einfachen, aber andererseits auch sehr effektiven Methode des Venenklebers, die VenaSeal®-Closure-Technik. Nach der CE- Zulassung im Herbst 2011 begannen einige Venenzentren in Deutschland und Europa mit dem Einsatz des Venenklebers. Inzwischen arbeiten 35 Zentren erfolgreich mit dem neuen Therapiesystem. In 2014 / 2015 wurde dass System auch in Kanada und den USA zugelassen. Seit 2018 ist die VenaSeal – Technik in den USA Pflichtleistung für die Versicherungen.
Introduction to the endovenous therapy methods
Since 19 years, the varicose is increasingly treated endovenous. At the beginning, the rather cumbersome VNUS® Closure process and the easier-to-use linear laser. Followed in 2006/2007 the bipolar RFITT® catheter and the VNUS® ClosureFast system as well as the radial laser. In recent years, many experiences in endoluminal endovenous therapy have been collected, quality criteria established and standards developed for the various techniques. 16 years ago, apart from the thermal therapy concepts of radiofrequency and laser, the development of an equally simple but also very effective method of the vein glue, the VenaSeal® Closure technique, began. Following CE approval in autumn 2011, several venous centers in Germany and Europe began using the vein glue. Meanwhile, 35 centers are successfully working with the new therapy system. In 2014/2015, the system was also approved in Canada and the USA. Since 2018, VenaSeal technology in the USA has been mandatory for insurance companies.
Vom 01.08.2012 bis zum 28.02.2019 (79 Monate) wurde in 2202 Stammvenen die Venenverklebung zum Verschluss der Vene eingesetzt, und 282 Stammvenen wurden mit dem RFITT®-System behandelt, Einschlusskrite- rium war eine Stammvarikosis Grad II bis IV nach Hach bei der VSM und Grad II nach Hach bei der VSP.
Der maximal behandelte Venendurchmesser betrug beim Venenkleber 2,8 cm und beim Radiofrequenzverfahren 2,5 cm.
Der Nachbeobachtungszeitraum unserer Studie betrug maximal 60 Monate.
Mit dem Venenkleber wurden in 1515 Fällen die Saphena magna und in 570 Fällen die Saphena parva therapiert. Während wir beim Einsatz des Venenklebers nach Möglichkeit die simultane Therapie aller insuffizienten Stammvenen anstrebten, wurden in der Gruppe der Radiofrequenz-Patienten in den meisten Fällen jeweils 1 – 2 Stammvenen therapiert.
Mit dem Radiofrequenzverfahren wurden 282 Venen behandelt, davon waren 181 Magnavenen und 101 Parvavenen.
Die Venenklebung wurde unter leichter Dormicum – Sedierung oder in Lokalanästhesie und gleichzeitiger Musiktherapie für den Venenzugang durchgeführt. Die Radiofrequenztherapie erfolgte in Analgosedierung und Tumeszenz- oder in Vollnarkose.
Alle Patienten wurden / werden im Rahmen einer Studie (eigenes Qualitätsmanagement) am ersten, siebten und 30. Tag sowie nach sechs und zwölf Monaten und dann einmal jährlich klinisch und duplexsonographisch nachuntersucht.
Material and Methods
From 01/08/2012 to 28/02/2019 (79 months), vein glue was used to occlude the vein in 2202 trunk veins, and 282 truncal varicose veins were treated with the RFITT® system; inclusion criterion was a second to fourth degree varicose veins Hach in the GSV and II. degree after Hach in the SSV.
The maximum treated venous diameter was 2.8 cm in the venous glue and 2.5 cm in the radiofrequency procedure. The follow-up period of our study was a maximum of 60 months. With the vein glue the GSV was treated in 1515 cases and the SSV in 570 cases. While we aimed at the use of the vein glue, if possible, the simultaneous treatment of all insufficient truncal veins, in the group of radiofrequency patients in most cases 1 – 2 truncal veins were treated. The radio frequency procedure 282 veins were treated, of which 181 were GSV and 101 SSV,
Sealing veins was performed under mild Dormicum sedation or under local anesthesia and concurrent music therapy for venous access. Radiofrequency therapy was performed in analgesic sedation and in tumescent or general anesthesia. All patients were followed up on the first, 7th and 30th day, six and twelve months and then once a year by clinical and duplex sonography in one study (own quality management).
Ergebnisse
Im Verlauf von 60 Monaten Anwendung des Venenklebers VenaSeal®- konnten 1265 Fällen duplexsonographisch nachuntersucht werden. Bei 79 Venen wurde eine Rekanalisation festgestellt. Die Verschlussquote liegt bei 96,41%.
In der Radiofrequenz – Gruppe konnten bisher alle 282 Patienten bis zu 60 Monate post op nachuntersucht werden. Es zeigten sich 14 Rekanalisationen in diesem Zeitraum (4,9 %). Die Verschlussrate über 60 Monate liegt bei der Radiofrequenztherapie für die Gesamtzahl an Behandlungen an 256 Stammvenen somit bei 95,1 %.
Der subjektiv empfundene Schmerzscore am ersten postoperativen Tag (Range 1-10) lag beim Venenkleber zwischen 1 und 3 und beim RFITT -Verfahre zwischen 3 und 8 (4,1). Er reduzierte sich bis zum siebenten postoperativen Tag beim Venenkleber auf 1,1 und bei der Radiofrequenztherapie auf 2,7.
In 7,9 % sahen wir postoperativ eine unspezifische entzündliche Hautreaktion nach circa sechs bis zehn Tagen in der Venenkleber – Gruppe, diese klang bei entsprechender antiphlogistischer Therapie mit kühlenden Verbänden (bei Bedarf Ibuprofen) innerhalb von drei bis fünf Tagen ab.
Bei den Radiofrequenz – Patienten zeigte sich eine thermische oder entzündliche Hautreaktion in 25 Fällen (8,9 %) bereits am ersten bis dritten postoperativen Tag, sie war in 11 Fällen (3,9 %) noch nach drei Monaten nachweisbar. Insbesondere bei dicht unter der Haut gelegenen Stammvenen ist diese Hautreaktion bei thermischen Verfahren allgemein sehr nachhaltig und langwierig. In zwei Fällen (0,7 %) fand sich in dieser Gruppe eine offene Verbrennungswunde der Haut des Oberschenkels, wobei eine eitrige Gewebeentzündung offen chirurgisch nachbehandelt werden musste (0,35 %).
Gravierendes Problem bei RFITT® ist und bleibt jedoch das Auftreten von Missempfindungen und Taubheitsgefühl. In unserer Gruppe berichteten 71 Patienten (25,2 %) von länger ( >30 Tage) anhaltendem Taubheitsgefühl . Während bei der Behandlung der VSM in 14 % Taubheit oder Missempfindungen beschrieben wurden, steigt diese Zahl bei der Behandlung der VSP auf > 30 % an. Teilweise hielten diese neurologischen Fehlfunktionen der sensiblen Nerven bis zu 36 Monate an.
Diese hohe Zahl an Nervenirritationen bei der Therapie der V.saphena parva lässt uns hier eindeutig eine Empfehlung für den Venenkleber aussprechen. Dies ist inzwischen auch internationaler Standard.
Bei der Venenverklebung haben wir bisher nahezu komplett auf die Kompressionstherapie verzichtet, beim Radiofrequenzverfahren tragen die Patienten einen Kompressionsstrumpf für 14 bis 21 Tage.
Results
In the course of 79 months of use of the vein glue VenaSeal®, 1265 cases could be followed up over 60 months by duplex sonography. We found 79 recanalisations over all the time. The occlusion rate is 96.41%.
In the radiofrequency group, all 282 patients have been followed up to 60 months post op. There were 14 recanalizations during this period (4.9%). The closure rate over 60 months for radiofrequency therapy for the total number of treatments on 256 trunk veins is 95.1%.
The subjective perceived pain score on the first postoperative day (range 1-10) was between 1 and 3 for the vein adhesive and for the RFITT procedure between 3 and 8 (4,1). It decreased to 1.1 in the vein glue up to the seventh postoperative day and to 2.7 in the radiofrequency therapy.
In 7.9% we saw a nonspecific inflammatory skin reaction postoperatively after about six to ten days in the sealing vein group. In the radiofrequency patients, a thermal or inflammatory skin reaction was seen in 25 cases (8.9%) as early as the first to third postoperative day in 11 cases (3.9%) still detectable after three months. Especially in close-to-the-skin truncal veins, this skin reaction is generally very long lasting in thermal processes. In two cases (0.7%), an open burn of the skin of the thigh was found in this group, whereas a purulent tissue inflammation had to be openly treated surgically (0.35%) .
The major problem with RFITT®, however, is and remains the occurrence of abnormal sensations, deafness feelings and paresthesia. In our group, 71 patients (25.2%) reported prolonged (> 30 days) persistent paraesthesia and deafness. While 14% reported deafness or abnormalities when treating GSV, this number increases to> 30% in SSV treatment. In part, these neurological dysfunctions of the sensory nerves lasted up to 36 months.
This high number of nerve irritations in the treatment of SSV leaves us here clearly a recommendation for the sealing vein therapy pronounce. In the meantime, this has become an international standard as well. In the case of sealing varicose veins, we have almost completely dispensed with the compression therapy. In the radiofrequency procedure, patients wear a compression stocking for 14 to 21 days.
Schlussfolgerungen
Das non thermale und non tumeszente Venenkleben mit einen bioresorptiven Gewebekleber ist die neueste technische Entwicklung in einer Serie endovenöser Therapieverfahren. Nebenwirkungen, wie sie aus der Laser – oder Radiofrequenztherapie bekannt sind, spielen hier keine signifikante Rolle.
Wir brauchen keine Vollnarkose oder Tumeszenzanästhesie und in den meisten Fällen ist keine post operative Kompression notwendig. Die deutlich reduzierten Nebenwirkungen und ein sehr geringer Schmerzscore während und vor allen nach der OP sind entschiedene Vorteile im Vergleich zu Laser oder Radiofrequenz. Wir sehen kein Kribbeln, keine Taubheit, keine motorischen Störungen und keine Venenentzündung.
Selten kommt es im Zusammenhang mit einer – durch eine rote Hautverfärbung erkennbaren zeitweisen Fremdkörperreaktion (7,9% aller Fälle) – zu einer länger sichtbaren strichförmigen Hautpigmentation.
Conclusions



Non thermal and non tumescent vein glue with a bioresorptive tissue glue is the latest technological development in a series of endovenous therapy procedures. Side effects, such as those known from laser or radiofrequency therapy, do not play a significant role here. We do not need general anesthesia or tumescent anesthesia, and in most cases no postoperative compression is necessary. The significantly reduced side effects and a very low pain score during and after treatment are decided advantages compared to laser or radiofrequency. We see no anormal sensations, no deafness feelings, no paraesthesia, no motor disturbances and no phlebitis. Rarely it comes in connection with a – recognizable by a red skin discoloration temporary foreign body reaction (7.9% of all cases) – to a longer visible line – shaped skin pigmentation.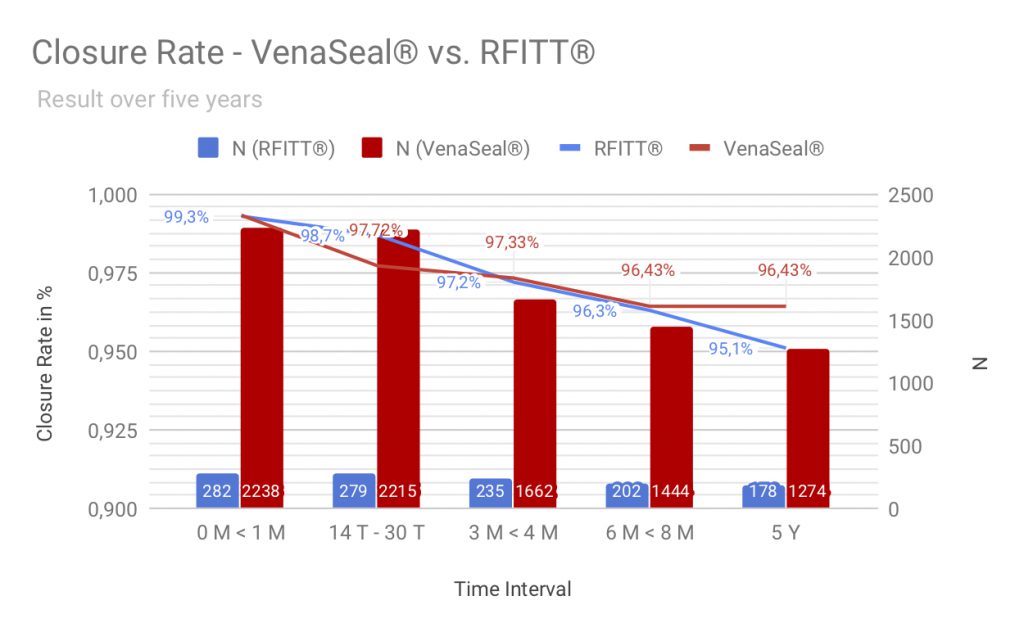 References
Gibson et al.: Twenty-four-month results from a randomized trial of cyanoacrylate closure versus radiofrequency ablation for the treatment of incompetent great saphenous veins.
Lawson J, S Gauw, C van Vlijmen, P Pronk, M Gaastra, M Mooij, C Wittens: Sapheon: the solution? Phlebology 2013;0:1-8
Morrison, Nick, and Kathleen Gibson: Veclose Study: Preliminary Month 1 Data; 2nd Annual Cyanoacrylate Embolization Symposium, Mainz, Jan. 18, 2014
Proebstle TM, Alm J, Rasmussen L, Dimitri S, LawsonJA, WhiteleyM,, Franklin IJ, Davies AH: The European Multicenter Study On Cyanoacrylate Embolization Of Refluxing Great Saphenous Veins Without Tumescent Anaesthesia And Without Compression Therapy. eScope – study; Abstract presented to the American Venous Forum Annual Meeting 2013, Phoenix ( AZ) the USA
Rasmussen LH, Bjoern L, Lawaetz M, Lawaetz B, Blemings A, Eklof B.: Randomised clinical trial comparing endovenous laser ablation withthe stripping of the great Saphenous vein: clinical outcome and recurrence after 2years. Eur J Vasc Endovasc Surg 2010;39:630 – 35

Zierau UTh.: Venenverklebung versus Radiofrequenztherapie bei Varicosis – Verlaufsstudie über 36 Monate mit 1139 Behandlungen. vasomed 28 (2016) 212 – 216.
Zierau UTh.: http://www.saphenion.de/news/konsensus-1-neef-endovenoese-krampfadertherapie

J Vasc Surg Venous Lymphat Disord. 2018 Sep;6(5):606-613.
http://www.ncbi.nlm.nih.gov/pubmed/?term=veclose
http://www.ncbi.nlm.nih.gov/pubmed/27052039
http://www.ncbi.nlm.nih.gov/pubmed/23482526
https://vsearch.nlm.nih.gov/vivisimo/cgi-bin/query-meta?query=venaseal&v%3Aproject=nlm-main-website
http://www.accessdata.fda.gov/scripts/cdrh/cfdocs/cfmaude/detail.cfm?mdrfoi__id=4841327
We published following study – presented by SAPHENION® – first time at the 28th. ACP – Annual Congress in Phoenix / Arizona on November 2014