1st. NEEF – Dear colleagues, dear friends
1st. NEEF: Ints Üdris, Carl Hendrik Schelp and me were very pleased that our joint meeting 1st. NEEF,  " 1st. Northern European Endovenous Forum"  took place yesterday and today in Rostock – Warnemünde, in the congress center "Hohe Düne". This forum was born in 2016, when Ints, Carl and me stayed in Mainz for the VenaSeal meeting. In a joint photo in front of the manufacturer's advertising wall, we had a very intensive discussion about whether perhaps such a forum on endovenous therapy techniques for varicose veins would also be possible in Northern Europe….
Now we were here in the very sophisticated congress center Hohe Düne. A small touch of luxury. A lot of very intensiv but friendly discussion in – an outside the Congress Center.
The congress center Hohe Düne is an excellent location, distingueshed, with a great hospitality.

1st. NEEF – Great Thanks to sponsors and agency
And the idea then became the first contacts and agreements on various social media channels in autumn of last year … and the delicate idea then became a serious draft. Sponsors were sought, a smart and committed congress agency

wikonect

asked and then the idea took its practical course. With the strong support of Medtronic Europe, as partner also SIGVARIS and Mediserv to our side, an exciting concept was created for this first in Northern Europe international medical forum for endovenous therapy of varicose veins. Undoubtedly there is a need, because still endovenous procedures are sometimes rude questioned. On Friday, the 5.10.2018 we will hold a first fixed session. For the ceremonial presentation we were able to win the reviewer of my doctoral thesis, my long – term colleague, partner and friend,

PD Dr. med. med. Wolfgang Lahl

. He introduced us on Friday in the long and intensive history of the various therapy procedures on truncal varicose veins.   
And today, at saturday in the early morning, we began with our work. After a very short "good morning, folks!" we began with the first session.
1st. NEEF – the presentations
Dr. Ravinder Singh – Ranger

had the first speech one, prevalence epidemiology of superficial veins reflux. He told us very impressive facts.  Over 28 mill. patients in USA alone have varicose veins of all stadium – this is the five times more than all smoker legs! The number of varicose vein patients in UK and in Europe is the same…
Only 7 mill patients get a therapy! Also the same in Europe….4 years waiting of a therapy and in this time a continuous deterioration of results. He told about 4% ulcers and 5% phlebitis. In his second speech Ravinder told us about ulcer – 80% of them have a varicose vein causa. The costs for the therapy are much more than  € 15000,00!
And he asked: Do we need a surgical solution?
No! After endovenous therapy we see a much more faster healing
Thomas Noppeney

presented new clinical data and long term results of radio frequency ablation. He told us, that the radio frequency has less side effects and complications as the endovenous laser. The closure rate was 95,2% over more than 6 years.
And here the same conclusion: We don't need a surgical solution, we have a lot of different endovenous techniques. Noppeney emphasized the rule of the ESVS-guidelines!
Chairman Carl Hendrik Schelp

developed in his speech differential therapeutic ideas for using thermal or non thermal endovenous techniques. It was – depend on the special individual situation of patients – a very differentiated therapeutic way he showed us.
Also here the forced opinion – no way back to radical surgery! 
Danish phlebologist
Lotte Klitfod

told us about the health care system in denmark, especially in varicose veins. Its a little bit crazy, because 70% of patients north of Denmark get a radical operation and only 7% radio frequency ablatio. opponent picture in the middle of Denmark,   70% of all patients get micro foam, and in the south 68% get radiofrequency ablation. In the capital Copenhagen 60% of all patients get the endovenous radiofrequency, only 6% are treating with radical surgery.
Also Lotte loves endovenous therapy!
Chairman Ints Üdris

presented his single center experiences over 5 years in different types of laser and the results of sealing truncal varicose veins with VenaSeal. He treated 460 truncal veins in 236 cases with super glue. The 5 years – closure rate in VenaSeal therapy  is 96,1%. These are also very good results and comparable to all the other users!
Joachim Thum

presentet his results over 2 years VenaSeal in 188 varicose veins. The closure rate over 2 years 97,7%.  He has spoken also about modifications in therapeutic management of VenaSeal. He has similar ideas like we at SAPHENION.
Kimmo Mäkinen

has spoken about the dramatic change of therapy options and – techniques in the last 10 years. He is also using radiofrequency and will begin with VenaSeal this year.
He told us that In Finnland only patients with skin damage and ulcera can get a therapy of varicose veins.
Adam Wegzynowski

also presented 3 years results in VenaSeal. The closure rate is here between 92 – 96%. Adam told us also that polish guidelines favor endovenous therapy with radio frequency before radical surgery. He see advantages in using VenaSeal. On one site the better cost effectiveness on the other side the better closure rate over 3 year.
Giuseppe Serpieri

presented his 18 years experiences with all endovenous techniques. He worked with Closure plus, Closure fast. Since 60 month he is also working with VenaSeal, Closure rate 96,2%. And also Giuseppe is favoring all endovenous techniques – all they are better than stripping, he said!
Dr. Ulf Zierau

from Saphenion presented the actual results in 1093 cases and 2024 truncal varicose veins treated with VenaSeal. The closure rate is 96,3% after 74 month, no major or minor complications, side effects in 9%.
We finished our radical surgery therapy in varicose veins from 2012.
We found first time a complete bioresorption of glue after VenaSeal therapy. Here the history pathological examination of a small vein segment 11 month after sealing: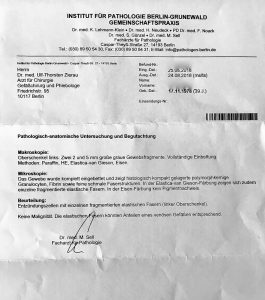 1st. NEEF – How to win patients?
Pauline Laser

from Agency Peix told about advertising against content marketing in medicine. It was very interesting, to hear some new aspects in marketing. Content marketing is also very important in hospital marketing and also in praxis marketing.
Zane Revalde

was spoken about patient marketing in Riga Hospital. How to do this and whats important. Her ideas were very interesting, especially  under the aspect of the regional development in Latvia. She told us, that patients from 60 countries all over the world are coming to Riga, The most are from Russia, UK, Ukraine, Ireland and Norway!
Saphenion

made the last presentation – the same theme: How to win patients, how to establish a successful vein praxis. We have spoken about our work in internet, with social media and our website.
The atmosphere during the NEEF sessions and the breaks was very friendly, relaxed and interested. We had a very intensive and intelligent discussion inside the conference room and outside during the lunch and coffee. It was a very special meeting with nearly 50 guests from 17 countries. Everyone with everyone came in long time discussion.
I'm  honest, such an atmosphere I´ d never felt before!
At the end of session we pleased all colleagues to vote for the next location for the 2nd. Northern European Endovenous Forum next Year in June….. 
.