80 months sealing veins: Our experiences
Treatment with Cyanoacrylat
Since 1949 the chemical compounds of cyanoacrylate glue are known, first being used in operative medicine in the early 60st as a tissue adhesive or replacement of wound sutures. But also in the twenties german surgeons began with sealing veins. Also the world known Ferdinand Sauerbruch did not like stripping – and all Charité surgeons had sealing veins with kalorose – solution.
Nearly all operative disciplines were using cyanoacrylate i.e. dermatology, ophthalmology, orthopedics, surgery, orthodontics, interventional radiologists, children surgery, vascular surgery, intenal medicine. The risk of an allergic reaction is not real we didn`t found any allergic reaction in all 2234 treated truncal veins.
FDA – approval 2015 states: VenaSeal is bio – compatible/ resorptive/ not carcinogenic and not allergenic!
VenaSeal® Closure – our experience in 2234 truncal veins
Until 31th. March 2019 we sealed GSV in 1540 cases, SSV in 573 cases, VSAL in 67 cases, VSAM in 47 cases, Femoropoplitea in 5 cases, Giacomini in 2 cases. The age of patients was 17 – 90 years.
Treatment of one truncal vein in 357 cases, 675 patients received treatment for two truncal veins simultaneously, in 133 cases we treated three truncal veins; 28 patients had four truncal veins, 2 patients 5 truncal veins. One patient got a treatment of 6 veins and an aneurysma in a single session (summary: 1196 patients)
In 13 cases we treated truncal veins with ulcera crures – healed 2 to 8 weeks after. We also treated patients with HIV, hepatitis, Parkinson without any pathological reaction. Nearly all procedures carried out under sedation(dormicum), 129 patients won`t any kind of anesthesia (10,8 %), Nearly all patients left the praxis without compression stockings.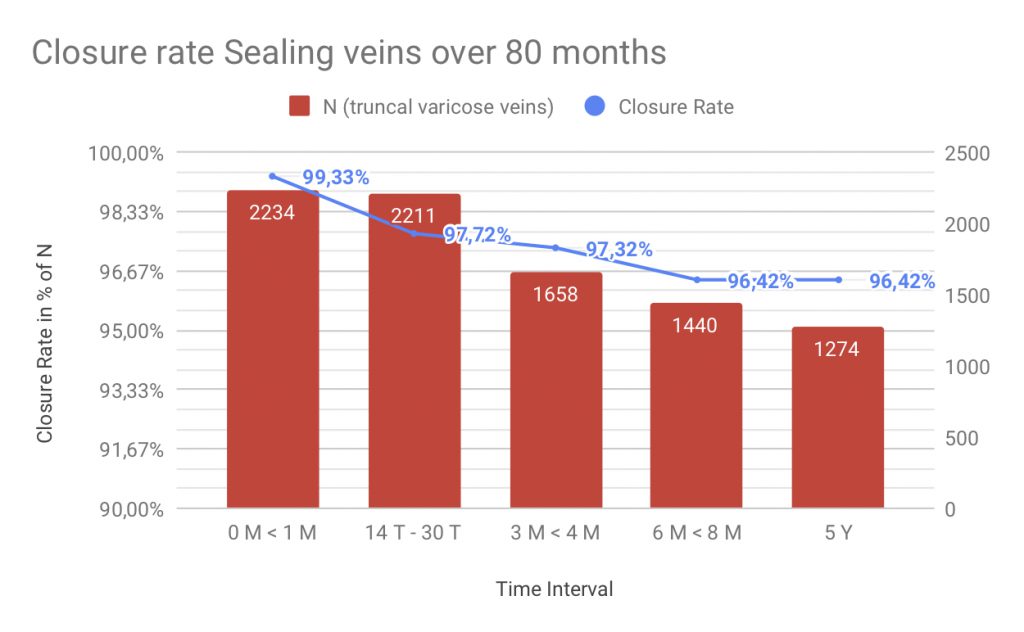 Sealing veins – our results
For the treatment of one truncal vein we need 1.2 ml to 1.8 ml of glue. The time of treatment for one GSV: 8 – 12min., for two veins 25 – 30 min. An unspecific inflammatory reaction of tissue we saw in 176 veins (7,9 %) • Bleeding for > 12 h ex punctio in 22 cases (in cases of continued anticoagulatio). Lymph – fistula at the puncture site in17 cases. Glue (?) pimpel with cutaneous perforation 10 – 12 month after sealing in 3 cases.
There was not to be found: hyp – / paresthesia, no permanent skin reaction. We saw no phlebitis or thrombosis or emboli.
Our ultrasound follow up over 80 months
Duplex control follow up over 80 months: the first day 2234 veins were re – examined – 2219 veins were sealed initially = 99,33 % closure rate.
After 14 – 30 days we found 41 partial and 10 completely recanalized veins able to followup of 2211 sealed truncal veins (99,0 %).   this is a closure rate of 97,72 %.
Three to four months post operationem we had 43 partial and 17 complete recanalisations able to follow up 1658 veins (74,3 %). This is 97,32 % closure rate.
After six to eight months we observed 50 partial and 30 complete recanalisations able to follow up 1440 veins (64,4 %). Closure rate 96,42 %.
No further recanalisations were found after 80 month, able to follow up 1274 veins (57,0 %) up to now! Closure rate over 80 months: 96,42 %.
Sealing, Laser, Radiowave?
VenaSeal glue is one of the endovenous techniques with a high standard of effectiveness. Quality standards are thes ame like other procedures, f.e. laser, RFA or Clarivein.
VenaSeal is safe in treatmentof all truncal veins, side branches and perforatorveins until a diameter of 1,5 – 2 cm. Higher diameters are possible!
Sealing veins ist first choice in treatment of truncal veins of the lower leg and truncal veins of GSV 3 – 4°.
VenaSeal is the expensive of all endovenous techniques, thats why therapy of more than one truncal vein simultaneously is recommendable – we can treat 3 – 4 truncal veins with one catheter!
Closure rate of VenaSeal® compared to RFA, MOCA ore laser is same / better.
Also general vein diameter more than 2 cm is possible to be treating with glue.