Truncal varicose veins – therapy with sealing foam effective?
Microfoam has been used since the middle of 90th for the treatment of truncal varicose veins. However, the idea of ​​sealing varicose veins is not new. Already in the 1920's, varicose veins were sealed with glucose solution. Named Kalorose – it was a 25 – 40% glucose solution.

Also the Nestor of the sclerotherapy in Germany, Paul Linser, changed after his move to Berlin from the saline for sclerosis to sealing with sugar solutions.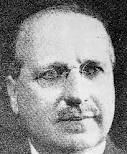 At the end of the 1920's, even at Ferdinand Sauerbruch's surgery department of the university hospital Charitè, stripping had been completely eliminated and replaced by sealing therapy with sugar solutions.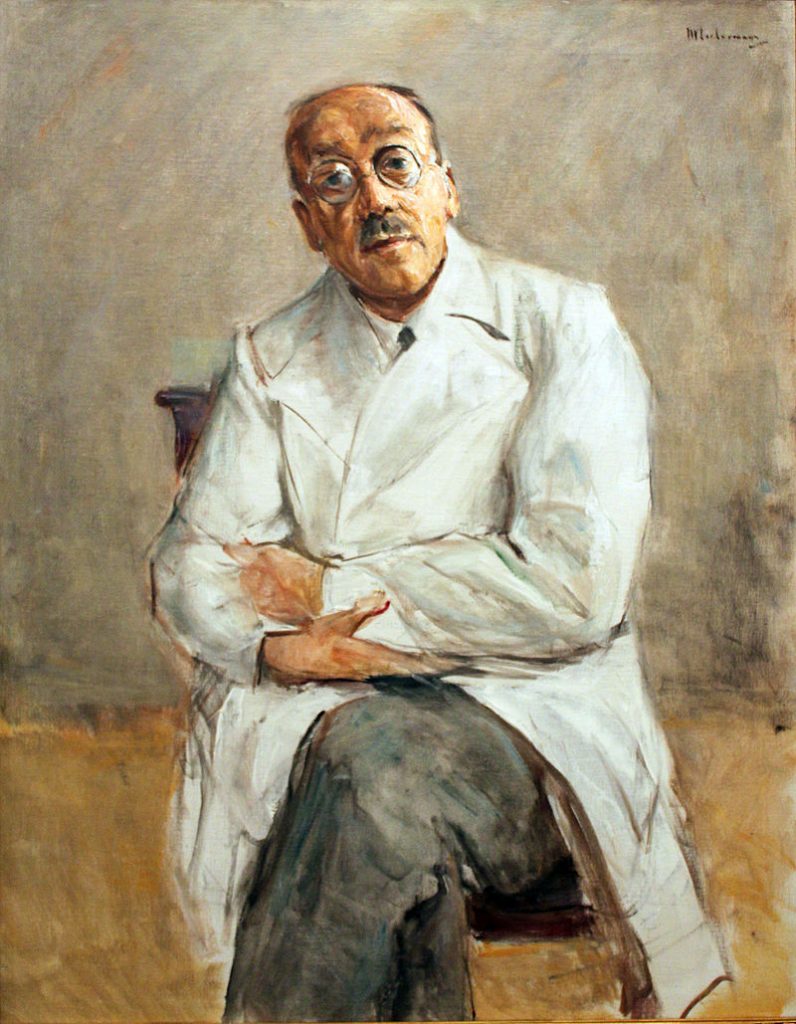 With the success of sealing veins up from 2011 the idea came up to further develop the microfoam. The known technical and chemical possibilities, combined with the microfoam therapy practiced since the middle of the 90th, almost inevitably lead to a combination of these techniques. Sealing Microfoam is one of the possible variations.

Microfoam is known since nearly 80 years

The microfoam for the treatment of varicose veins has been known since 1938. He has established himself in the 90th as a solid therapy of varicose veins and spider veins. The treatment management of the varicose disease was clearly facilitated and the therapy was gentle. In addition to finding an adhesive component, nothing new had to be developed. There was already clinical experience from the 20's to 30's of the last century for sealing varicose veins….
Microfoam Gold standard for treatment of reticular veins and spider veins

Since 2010, the United States Food and Drug Administration (FDA) has also approved microfoam therapy with the use of an aethoxyclerol foam to treat varicose veins and declared it the "gold standard" for spider veins and reticular vein therapy. In Germany we have also guidelines on sclerotherapy and microfoam.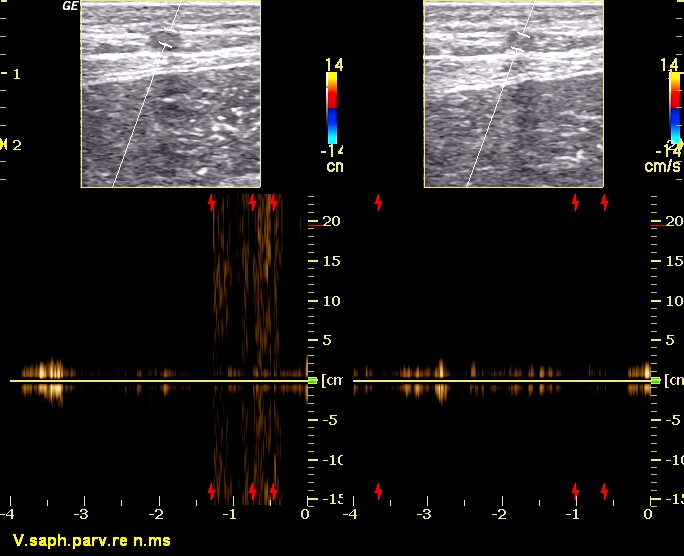 Our results over 34 month sealing foam of truncal varicose veins
Since December 2006, we have successfully used microfoam in 13751 sessions.

In the last 34 months (4/2016 – 02/2019), 3970 sealing microfoam treatments have been performed on Saphenion.

In 325 cases, truncal varicose veins were treated. In 118 cases, these were SSV, 109 patients with GSV, in 98 cases VSAA.

In addition, Giacomini vein or Femoropopliteal vein on the thigh and lower leg was treated in 89 cases. The average age of patients in this therapy group was 44 years (18 – 85 years).

It was 0.5% – 3% Ethoxisklerol used and foamed with a – since the mid twenties also used in truncal veins – intense sealing glucose solution.
The treatment duration was on average 26 minutes. (5 – 48 min), anesthesia was not necessary in any case. Simultaneous therapy on both legs or side branches and spider veins is possible if the maximum amount of microfoam applied in the guidelines for microfoam therapy is not exceeded.

The preoperative diameter of the varicose veins was 4.7 mm (2.3 mm – 10.5 mm). The diameter of the treated veins 9 – 12 months after Sealing Foam was 2.3 mm (0.5 – 7.5 mm).

Therapy success after sealing microfoam
Sealing microfoam therapy was 100% successful in incomplete truncal veins of GSV or SSV. All veins were closed after 34 months. The results for SSV showed a closure rate of 94.9% (112 / 118 veins). Therapy of complete GSV showed a closure rate of 90.8% (99 / 109 GSV).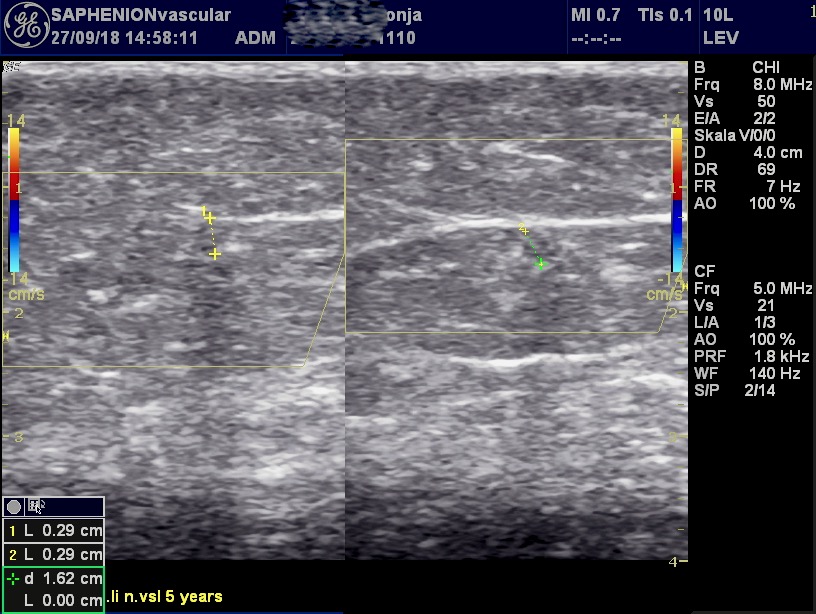 Side effects of Sealing Foam
Side effects were extremely rare. In about 8% of all cases we saw a long-time brown discoloration (ecchymosis), in 2 cases, multiple puncture ulcers developed after the therapy. In 10 cases, post op phlebitis had to be treated. A deep vein thrombosis was not to be seen (thrombosis prophylaxis once intraoperatively).
Also neurological complications were not reported by our patients. These are commonly seen in radical surgical therapy (25 – 50%) and thermal procedures (25 – 30%).
In 10 cases an intensive migraine attack had to be treated.
Hardened venous line and veins strand feeling along the treated vein have been described frequently, also soreness feeling or similar phenomenas were called more often.
Our discussion
Sealing foam therapy is also very well suited for the treatment of truncal varicose veins of smaller diameter. We are currently using sealing foam in the case of antecedent veins, if the diameter of the vein in the ultrasound examination does not exceed approx. 5 mm.


Compared to radical surgical therapy and the different thermal methods used today, the side effect rate of sealing foam is lower. This is especially important fact for therapy on the lower leg.


Anesthesia is not necessary. Compression stockings we are recommending for 7 -14 days.


Compared to vein glue, a significant cost advantage is real. However, the vein glue allows the treatment of all truncal varicose veins requiring treatment simultaneously in one session. This is not fully achievable with the sealing foam, since the amount used per session is limited. In addition, the effectiveness of the sealing foam in treatment of the trunk varicose veins compared to the vein glue is very dependent on the vein diameter, the venous pressure and flow in the varicose veins.


On the other hand, however, a therapy of side branches, reticular and spider veins is simultaneously possible.
The effectiveness of microfoam in the case of truncal varicose vein therapy had already been established by the European Society of Vascular Surgery (ESVS) in its 2015 guidelines.
Our experiences
Sealing foam can also be used for varicose veins of larger diameters, but in our experience a very good therapeutic effect up to a vein diameter of 5 mm is certain.
For all larger diameters, the use of venous glue, laser or radio wave shows a higher closure efficiency.
However, it should also be taken into account that the thermal procedure, especially on the lower leg, can damage peripheral nerves.
The use of sealing foam in the case of truncal varicosis is being consistently pursued by us. With further experience, the individual indication profile can be further sharpened and the patient receives more comprehensive information about their own therapy decision.
Next to the non-thermal venous adhesive we have a second effective – non-thermal, non-tumescent minimally invasive endovenous procedure.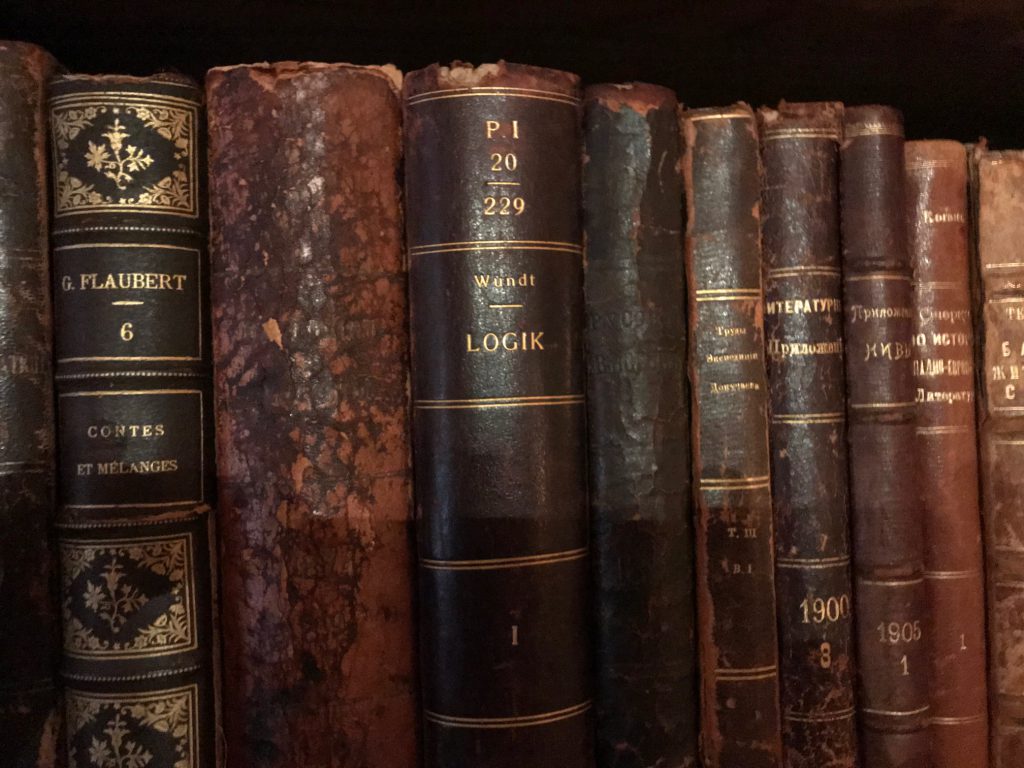 Links:
http://www.der-niedergelassene-arzt.de/fileadmin/user_upload/zeitschriften/vasomed/Artikel_PDF/2017/01-2017/Murena.pdf
http://www.phlebology.de/leitlinien-der-dgp-mainmenu/280-leitlinie-zur-diagnostik-und-therapie-der-krampfadererkrankung
http://gesundheitsnews.imedo.de/news/1017861-krampfadern-minimalinvasive-therapien-auf-dem-vormarsch
http://van den Bos R. et al. : Metaanalyse randomisierter klinischer Studien und Fallserien, J. Vasc. Surg., 2008, Aug.8
https://www.der-niedergelassene-arzt.de/praxis/sklerosierungstherapie-von-der-fluessig-zur-schaumveroedung/105,878,573,280/4c7d5327196d06207954826f4defa702/?tx_news_pi1%5Bcategories%5D=22_83_6
https://www.der-niedergelassene-arzt.de/praxis/bewegung-nach-der-sklerotherapie/category-6/105,878,528/236cc062f2899eacff25a57524e32e7a/
Bier,Braun Kümmel: Chirurgische Operationslehre, begründet. von F. Sauerbruch; Johann Ambrosius Barth, Leipzig; 1958
http://Lahl w und Zierau UT: http://vascular-endovascular-therapy.imedpub.com/abstract/the-fate-of-saphenaviews-into-the-past-23856.html
http://Zierau U Th: http://vascular-endovascular-therapy.imedpub.com/the-endovenous-eighteens18-years-endovenous-therapy-of-truncal-varicose-veins.php?aid=23424
http://Zierau U Th: http://innovationinfo.org/scholarly-journal-of-surgery/article_inpress/76-month-long-time-experience-with-the-VenaSeal—system-in-treatment-of-truncal-varicose-veins
http://Zierau U Th: http://vascular-endovascular-therapy.imedpub.com/the-endovenous-eighteens18-years-endovenous-therapy-of-truncal-varicose-veins.php?aid=23424