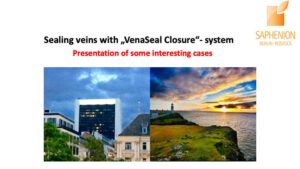 Saphenion – VenaSeal® therapie: Interessante Patientengeschichten
Saphenion – Venaseal®therapie: Interessante Patientengeschichten. Anlässlich der 62. Jahrestagung der deutschen Gesellschaft für Venenheilkunde (DGP) Anfang September 2020 in Leipzig hatten wir eine sehr nette Einladung zu einem Vortrag für das Venaseal® – Meeting bekommen. Die Fa. medtronic als Hersteller des Venenklebers "VenaSeal®" hatte uns gebeten, ein paar interessante Fälle aus 8 Jahren Therapie mit dem Venenkleber vorzustellen.
Saphenion® – Venaseal® therapy: Interesting patient stories. On the occasion of the 62nd annual conference of the German Society for Vein Medicine (DGP) in Leipzig at the beginning of September 2020, we received a very nice invitation to a lecture for the Venaseal® meeting. The company Medtronic, the manufacturer of the vein glue "VenaSeal®", asked us to present a couple of interesting cases from 8 years of therapy with the vein glue.
Füge diese URL in deine WordPress-Website ein, um sie einzubetten
Füge diesen Code in deine Website ein, um ihn einzubinden