Saphenion®: Wassersport ideal bei Beinvenenerkrankungen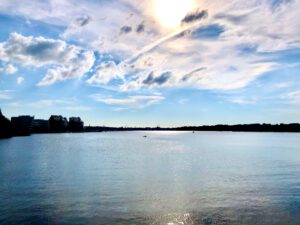 In Anbetracht der Jahreszeit fällt uns spontan das Schwimmen und die Wassergymnastik ein. Bekanntermaßen erzeugt Wasser ebenfalls eine Kompressionsdruck auf unsere Beine. Wenn die Beine sich ein Meter unter der Wasseroberfläche befinden, beträgt der Druck des Wassers insbesondere auf den gefährdeten Unterschenkeln und die Knöchelregion etwa 80 mmHg. Das ist viel mehr als beim Tragen von Kompressionsstrümpfen der Klasse IV, der stärksten Kompressionsklasse, erreicht werden kann.
Given the time of year, swimming and water aerobics come to mind. It is well known that water also creates compression on our legs. When the legs are one meter below the surface of the water, the pressure of the water, especially on the vulnerable lower legs and the ankle region, is around 80 mmHg. That is much more than can be achieved by wearing Class IV compression stockings, the strongest compression class.
Füge diese URL in deine WordPress-Website ein, um sie einzubetten
Füge diesen Code in deine Website ein, um ihn einzubinden