Sealing varicose veins over 78 months
In the period from 8/2012 to 2/2019 (78 months) vein glue used in therapy of 2162 truncal veins in 1161 patients. In 12 patients a leg ulcer (open leg) could be completely healed within 2 – 12 weeks. The vein glue has also been used in cases of dementia, multiple sclerosis or early childhood debility as well as in immunosuppression (HIV) and hepatitis patients. Even in 5 patients with multiallergy disposition and also in patients with psoriasis the VenaSeal glue could be used successfully and without any side effects. 
We also successfully used the vein glue fourteen days after phlebitis of GSV.
In 119 cases (10,3 %), our patients deliberately avoided any local anesthetic or sedative medication.
Non tumescent non thermal – glue over 78

 months
Since 8/2012 use of the vein glue at Saphenion. First use parallel to radiofrequency therapy. Meanwhile, more than 90% of our patients choose the glue for the treatment of truncal varicose veins. They also change from laser or radiofrequency to sealing because of short disability.
In the meantime, technical and manual modifications and experiences have expanded the indications. Now we are using glue in therapy of  REVAS,  venous tumors, ectatic and aneurysmatic veins and also refluxive junctions as well as perforating veins .
Especially in strong and obese patients, we see advantages of the catheter method radio wave and venous glue – we have been used glue successful in therapy of many cases in this group of patients.
In the meantime, we reject a classic stripping operation in the obese patient due to the very large op – areas and correspondingly high number of side effects.
Follow up since 8 / 2012
All patients undergo duplex sonographic follow – up examinations. This serves above all the own quality control and the collection of experiences in this relatively new technology.
The follow – up examination takes place on the 1st day, on the 14th – 30th day and between 90 and 120 days after the gluing.
Afterwards we examine after half a year and then once a year. In recent months, we have focused our treatment regime on the simultaneous treatment of all truncal varicose veins in a single session.
This provides a further significant gain in comfort for the patient. This results in considerable cost savings for private insurance carriers, assistance agencies and even the self – payers.
Results
On the 1st day, all 2162 sealed veins were re – examined. The closure rate was 99.31 %.
By the 30th. day we found a partial recanalization in 41 truncal veins and a complete recanalization in 10 cases. This corresponds to a closure rate of 97.64 %.
Over a period of 3 – 4 months, we observed 43 partially recanalized and 16 fully recanalized veins, with a closure rate of 97.27 %.
After 6 – 8 months, we found 50 partially recanalized and 29 fully recanalized truncal veins after bonding (96.35 %).
Further recanalizations were not found over the observation period. The closure efficancy of the vein glue in our single – center study is 96.35 % after a long – term period of 78 months.
Patients usually do not need a compression stocking after the surgery.
Already on the 1st. post op day could be started with the usual sport – also competitive sports – in certain stress levels (except weight training – here we recommend over 14 days waiver of leg press f.e.).  Also sauna sessions are possible again after 4 – 5 days. Here are amazing subjective positive effects – a much higher heat tolerance and the absence of any complaints are described.
For compression stocking therapy, we recommend sealing veins only when strongly dilated veins from 1.5 cm in diameter and venous extensions or aneurysms have been treated.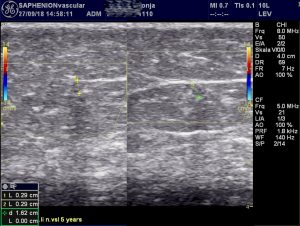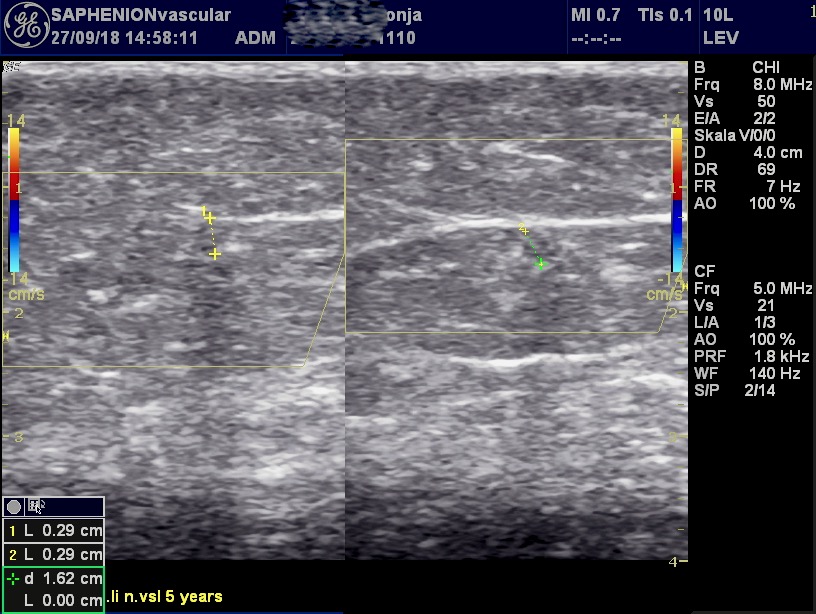 Duplex ultrasound 5 years after sealing a SSV left and both GSV in 73 years old patient: We cannot see the vein structure never we can see glue.
Side effects:
In 7,9 % (174 veins) of all sealed veins we saw a nonspecific foreign body reaction develops (tissue redness and swelling). This is indicated by a local reddening along the treated vein or as a planar reaction. However, this is not phlebitis, as is often misdiagnosed.
Pigmentation developed in 2 % of the cases treated by us. This is especially in cases where the truncal vein was located just under the skin outside the normal anatomy.
In 17 patients there was a slight bleeding tendency of the puncture site. All of these patients did not have to discontinue their anticoagulant medication under VenaSeal – therapy (e.g., Marcumar, Falithrom, ASS, Aspirin, Plavix, Xarelto a.s.o.).
In 15 cases we saw a lymph – fistula at the puncture site, which healed after 14 – 21 days compression bandage.
A (glue?) – pimple with opening of the skin was found in 3 patients between 7 and 12 months after the therapy. These were emptied minimally invasively and then healed.
The pathological examination of cells and wound liquid revealed that no glue residues were found!
Allergic reaction?
We did not see any allergic reaction or hematoma, no sensation, no numbness or other neurological side effects. Likewise, no phlebitis by the adhesive, no deep vein thrombosis or pulmonary embolism. Postoperative swelling was extremely rare, short – term lymphedema is possible.
Also we did not seen over all the time an allergic dermatitis, like published actually in 12 /2018 in a paper by
https://www.ncbi.nlm.nih.gov/pubmed/30582174 (37).
We think, the reason is an injection of glue outside the vein in the tissue and along the punction canal to outside skin.
There was no thrombosis in all 1161 cases.
In 13 cases, after the therapy with the vein adhesive, we saw a glue nose protruding into the pelvic or knee vein. An anti – thrombosis therapy for
3 – 7 days made these adhesives disappear in all cases.
We did not see any permanent skin alteration or pigmentation or other side effects and complications known from venous surgery.
Discussion
Over a period of now 78 months sealing of varicose veins we achieved a closure rate of 96.35 %. These are almost the same results as in the current multi – center study "VeClose – study".
This was published in late April 2017. The colleagues presented a closure rate of 96.8% in the sealing of truncal varicose veins  over a study period of 3 years.
http://evtoday.com/2017/04/three-year-veclose-data-and-1-year-waves-data-presented-for-medtronics-venaseal-closure-system-
The results are therefore almost identical after 3 years, as well as after more than 6 years of use. 
We have solide 5 years follow up dates in treatment of 1245 truncal varicose veins (58,5% of all treated veins).
These are the first single – center studies beyond the required 3 years of scientific control. The occlusive effectiveness of the venous adhesive is slightly better than in current long – term studies of the radio frequency ablation.
International Recommendations
We are currently following the European Guidelines for the Use of Endovenous Op Techniques (ESVS 2015) – the gold standard that recommends the use of catheters for the treatment of common varicose veins and includes the US guidelines and guidelines.
Thus, all colleagues who work with endovenous techniques worldwide have analog and comprehensible quality criteria for the respective endovenous therapy.
Non thermal ablation SAPHENION's choice
All endovenous procedures have many advantages over the radical surgical therapy and show not only good functional but also much better cosmetic results.
The complication rate is significantly reduced.

Side effects are much rarer!
In the meantime, in our hospital the sealing of varicose veins is the therapy of choice for the treatment of truncal varicose veins.
On the lower leg, the venous adhesive is in any case preferable to the laser and radio wave and superheated thermal methods, in order to avoid nerve damage ( – 30%). Also the therapy of perforator veins is possible with 2 – 3 drops of glue.
Anesthesia or tumescent anesthesia is not necessary in any case, a sedation or a local anesthesia of the puncture site are quite sufficient. On the contrary, 9,8 % of patients have renounced all anesthesia.
The closure rate of the vein glue is comparable or higher than that of the radio wave – but we also

see significantly less pain and side effects.
Even in obese patients, the use of the vein adhesive is very effective and gentle. Here we do without a recommendation for the radical "Stripping ".
With modified application of the vein glue, numerous possibilities arise for carrying out more differentiated treatment strategies.
https://www.saphenion.de/news/venaseal-modifikationen-venaseal-modifications/
Weblinks und Literatur:
Almeida JI, Min RJ, Raabe R, McLean DJ, Madsen M.: Cyanoacrylate adhesive for the closure of truncal veins: 60-day swine model results. Vasc Endovasc Surg 2011; 45: 631-635
Almeida JI, Mackay EG, Bautista C, Proebstle T.: Cyanoacrylate glue great saphenous vein ablation: preliminary 180 – day follow up of a first -in- man feasibility study of a no-compression-no-local-anaesthesia technique. J.Vasc Surg 2012; 55:297
Creton D, Rea B, Pittaluga P, Chastanet S, Allaert FA. Evaluation of the pain in varicose vein surgery under tumescent local anaesthesia using sodium bicarbonate as excipient without any intravenous sedation. Phlebology 2011. (Epub ahead of print 21 November 2012)
Elias S, Raines JK. Mechanochemical tumescentless endovenous ablation: final results of the initial clinical trial. Phlebology
Huisman LC, Bruins RMG, van den Berg M, Hissink RJ. Endovenous laser ablation of the small saphenous vein: prospective analysis of 150 patients, a cohort study. Eur J Vasc Endovasc Surg 2009;38:199–202
Keel D, Goldman MP. Tumescent anaesthesia in ambu- latory phlebectomy: addition of epinephrine. Dermatol Surg 1999;25:371-2
Lahl w und Zierau UT:  http://vascular-endovascular-therapy.imedpub.com/abstract/the-fate-of-saphenaviews-into-the-past-23856.html
Lawson J, S Gauw, C van Vlijmen, P Pronk, M Gaastra, M Mooij, C Wittens: Sapheon: the solution? Phlebology 2013;0:1-8
Min RJ, Almeida JI, McLean DJ, Madsen M, Raabe R.: Novel vein closure procedere using a proprietary cyanoacrylate adhesive: 30-day swine model results. Phlebology 2012; epub jan. 2012
Morrison, Nick and Kathleen Gibson: Veclose Study: Preliminary Month 1 Data; 2nd Annual Cyanoacrylate Embolization Symposium, Mainz, Jan. 18, 2014
Almeida, JI, Julian J. Javier, Ed Mackay, Claudia Bautista, Thomas M. Proebstle: One – Year follow up of first hand   use of cyanoacrylate adhesive for treatment of saphenous vein incompetence: epub 20. dec. 2012
Proebstle TM, Vago B, Alm J, Göckeritz O, Lebard C, Pichot O. Treatment of the incompetent great saphenous vein by endovenous radiofrequency powered segmental thermal ablation: first clinical experience. J Vasc Surg 2008;47:151–6.
Proebstle TM, Alm J, Rasmussen L, Dimitri S, Lawson JA , Whiteley M , Franklin IJ , Davies AH:The European Multicenter Study On Cyanoacrylate Embolization Of Refluxing Great Saphenous Veins Without Tumescent Anaesthesia And Without Compression Therapy. Abstract presented to the American Venous Forum Annual Meeting 2013, Phoenix ( AZ) USA
Proebstle TM, Alm J, Rasmussen L, Dimitri S, Whiteley M , Franklin IJ , Davies AH: Cyanoacrylate Adhesive For Treatment of Great Saphenous Vein Incompetence without Tumescent Anesthesia and without Compression Therapy, Abstract presented to the American College of Phlebology Annual Meeting 2012 Hollywood, Florida.
Rasmussen LH, Bjoern L, Lawaetz M, Lawaetz B, Blemings A, Eklof B.: Randomised clinical trial comparing endovenous laser ablation with stripping of the great Saphenous vein: clinical outcome and recurrence after 2years. Eur J Vasc Endovasc Surg 2010;39:630 – 35
Rosen RJ, Contractor S: The use of cyanoacrylate adhesives in the management of congenital vascular malformations. Sem Interv Radiol 2004; 21:59-66
Schäffer, N. et al.: Appositionsthrombus al Komplikation endovenöser Therapieverfahren; Phlebologie 2/2018; 93 – 101
Shadid N, Ceulen R, Nelemans P, et al. Randomized clinical trial of ultrasound-guided foam sclerotherapy versus surgery for the incompetent great saphenous vein. Br J Surg 2012;99:1062 – 70
Shepherd AC, Gohel MS, Lim CS, Hamish M, Davies AH. The treatment of varicose veins: an investigation of patient preferences and expectations. Phlebology 2010;25:54 – 65
Zierau U Th: VenaSeal® – Therapie bei SAPHENION – 18 Monats-Ergebnisse an 379 Stammvenen; Vortrag auf dem 2. Symposium zur VenaSeal® – Closure-Therapie, Mainz 18.01.2014
Zierau U Th: Venenverklebung versus Radiofrequenztherapie bei Varicosis – Verlaufsstudie über 36 Monate mit 1139 Behandlungen. vasomed 28 (2016) 212
Zierau U Th: http://vascular-endovascular-therapy.imedpub.com/the-endovenous-eighteens18-years-endovenous-therapy-of-truncal-varicose-veins.php?aid=23424
Zierau U Th: http://innovationinfo.org/scholarly-journal-of-surgery/article_inpress/76-month-long-time-experience-with-the-VenaSeal—system-in-treatment-of-truncal-varicose-veins
Zierau u Th: http://evtoday.com/2017/04/three-year-veclose-data-and-1-year-waves-data-presented-for-medtronics-venaseal-closure-system
http://evtoday.com/2017/04/three-year-veclose-data-and-1-year-waves-data-presented-for-medtronics-venaseal-closure-system
https://www.saphenion.de/news/sealing-lower-leg-truncal-veins-kleben-von-stammkrampfadern-am-unterschenkel/
https://www.saphenion.de/news/super-glue-venaseal-in-aneurysmatic-veins-therapy-dorsal-venous-arch-of-foot
https://www.saphenion.de/news/venaseal-get-favourable-cms-ruling-venenkleber-ab-2018-in-usa-versicherungsleistung/