Vascular medicine in the mirror of art
Vascular medicine was also reflected in art. You will not find what you're looking for on internet search engines. However, there are some fairly thick books that comprehensively cover the topic of medicine in the art of sculpture. And if you take the trouble to analyze the paintings, drawings, sculptures, bronze statues, etc., also subjects to the vascular medicine fall into the eye.
Nulla ethica sine aesthetica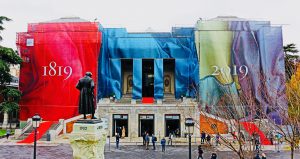 The medical profession in general and the vascular doctor in particular are regularly confronted with conflicting demands from different camps. The doctor is expected to respond sympathetically to the needs of patients. To devote more and more time to the patient while continuously improving his knowledge and craftsmanship. At the same time, the doctor is represented as a trader, a trader in matters of health and as a medical entrepreneur. Under pressure of time, he abbreviates the examinations, advertises the price of his goods and submits his services to the examination of laymen. (Albert S. Lyons). However, medical ethics is dependent on many different influences. Philosophy, history and art have always shaped the ethics of the profession.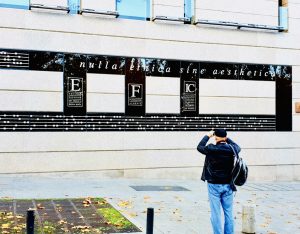 Medicine is not just a cure, healing is not just a discipline
Medicine has been, and always is, in relation to society, but the skill of the physician depends much more on abilities and qualities than on philosophy or society. Vascular medicine has become comparatively late in the interaction between history, philosophy, art and medicine in this interweaving. Nevertheless, the dependencies on different camps, on different philosophies, are also reflected in this discipline. Only at the beginning of the 20th century began vascular surgery, venous medicine began on the medical market. And yet, vascular medicine is not just a cure, not just a discipline.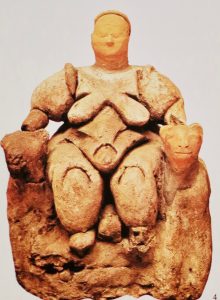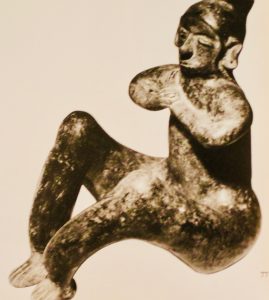 Seated female figures with signs of obesity and lymphedema (around 6500 b. chr.)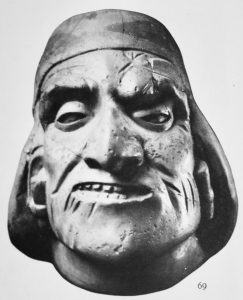 Face with unilateral paralysis as after a stroke – arterial occlusion? Embolism?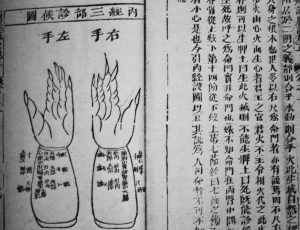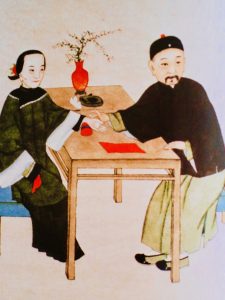 Old Chinese Medicine: Doctor examines patient with pulse buttons (left), pulse table for the diagnosis of internal organs (1693, right picture).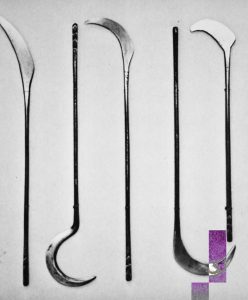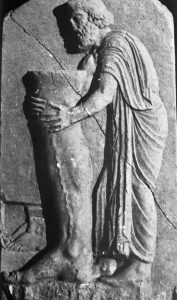 Steel scalpels for varicose veins (1860, left), Asklepios – Thanks for a varicose vein cure (290 b.chr.)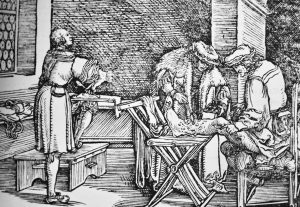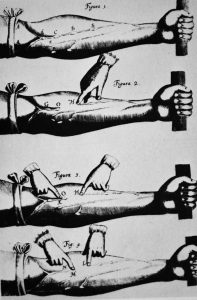 Treatment of leg ulcers, ulcers crures (1572); "De Motu Cordis" – woodcuts by which William Harvey explained the circulatory system (1628).

Representation of arteries of the brain base (around 1700);Leonardo da Vinci:Circulation of the vena cava (around 1500).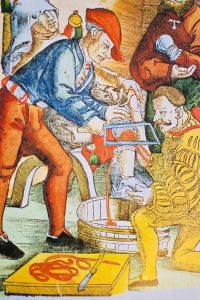 Hans Gersdorff: "Feldartztbuch der Wundartzney" (1540)-Amputation of a severed lower leg
(arterial circulatory disorder?)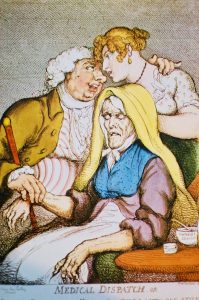 Thomas Rowlandsons Caricature of the Medical Profession (c.1800)
Robert Hinckley: First public surgery under anesthesia – it was operated on the jugular veins (1882).
Thanks to Professor Klaus Bürger (1933 – 2007)
My thanks go to my Vascular Surgical Teacher at the Berlin Charité, Hern Prof. Klaus Bürger. He supervised both my diploma thesis and my PhD thesis.
During the first years after 1990 we also went to galleries and antique shops during our congress visits to search for "medicine in art".
For the opening of my practice SAPHENION in February 1997 he gave me the book: "The History of Medicine in the Mirror of Art" by Albert S. Lyons and R. Joseph Petrucelli II, published in the German first edition in 1980 by Du Mont Buchverlag Köln as a present.
Links:
https://link.springer.com/article/10.1007%2Fs00772-007-0571-7