SaphenionPatientInfo: 8 Years VeinGlue – therapy with cyanoacrylate glue
SaphenionPatientenInfo: 8 Years VeinGlue – we were able to present our current 8 – years results at the 62nd meeting of the German Society for Vein Medicine in Leipzig and the 45th meeting of the Berlin Surgical Society on September 3rd and 4th, 2020.
SaphenionPatientInfo: 8 Years VeinGlue – our experience with cyanoacrylate glue
Since 1949 the chemical compound is known, first being used in operative medicine in the early 60s. Tissue adhesive or replacement of wound sutures Nearly all operative disciplines were / are using cyanoacrylate i.e. dermatology, ophthalmology, orthopedics, surgery, orthodontics, interventional radiologists.
The risk of allergic reaction is not real – So far we have found four publications or scientific studies with evidence of a contact allergy in medline or pubmed.
The CE certification already took place in 2011, the American FDA approval from 2/2015 states: VenaSeal® is bio-compatible and bioresorptive, non-carcinogenic and non-allergenic!
SaphenionPatientInfo: 8 Years VeinGlue – our experiences
During the last 8 years we sealed GSV in 1867 cases, SSV in 701cases, VSAL in 103 cases, VSAM in 83 cases, Femoropopliteal vein in 30 cases, Giacomini 2 cases. The Age of patients was between 17 – 94 Y.
Treatment of one truncal vein in 416 cases, 797 patients received treatment for two truncal veins simultaneously, in 190 cases we treated three truncal veins; 45 patients had four truncal veins, 4patients 5 truncal veins. One patient 6 veins and an aneurysma treated in a single session (summary: 1454 patients)
In 16 cases we treated truncal veins with ulcera crures: healed 2 to 12 weeks after. We also treated patients with HIV, hepatitis, Covid 19, Parkinson without any reaction.
Nearly all procedures carried out under sedation (dormicum), 193 patients without anesthesia (13,3%), one patient performed pain acupuncture. A lot of our patients choose music during op and left without compression stockings
SaphenionPatientInfo: 8 Years VeinGlue – our results
For the treatment of one truncal vein we need 1.6 ml to 2,2 ml of glue. The time of treatment for one GSV is 10 – 15 min., for two veins 25 – 30 min.. An unspecific inflammatory reaction of tissue we saw in 208 veins (7,5% of all treated truncal veins). Bleeding for > 12 h ex punctio in 23 cases (continued anticoagulatio). Lymph-fistula at the puncture site in 25 truncal veins (0,9%). Glue (?) – pimpel with cutaneous perforation 10 – 12 months after sealing in 4 truncal varicose veins – the pathological examination has not shown any rest particles of cyanoacrylat glue!
There was not to be found: hyp – / paresthesia, permanent skin reaction, no phlebitis or thrombosis, no embolism.
Duplex control follow up over 8 years: the first day 2786 veins were re – examined – 2776 veins were sealed initially = 99,64% closure rate.
After 14 – 30 days we found 50 partial and 15 completely recanalized veins able to follow up of 2784 sealed truncal veins (99,9%) = 97,66% closure rate.
Three to four months post operationem we had 56 partial and 24 complete recanalisations able to follow up 2197 veins (78,9%) = 97,13 % closure rate.
After eight to ten months we observed 67 partial and 40 complete recanalisations able to follow up 1831 veins (65,7 %) = 96,16 % closure rate.
No further recanalisations were found after 8 years up to now! Closure rate over 8 years = 96,16%!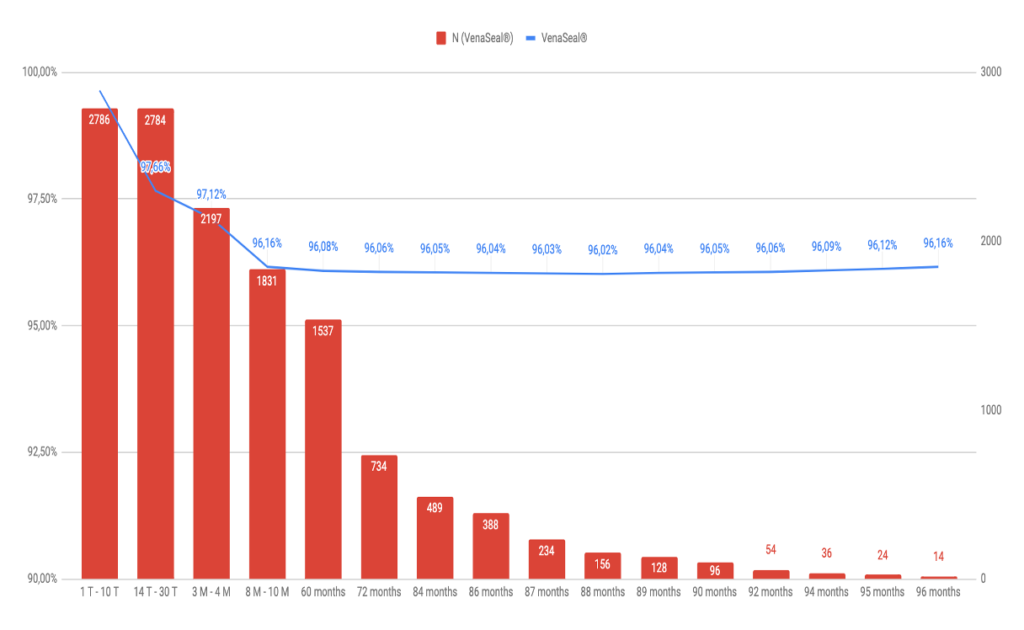 SaphenionPatientInfo: 8 Years VeinGlue – our discussion
VenaSeal® is one of the endovenous techniques with a high standard of effectiveness – quality standards are the same like other procedures. VenaSeal® is safe in treatment of all truncal veins, side branches and perforator veins until a diameter of 1,5 – 2 cm. Higher diameters are possible! The advantages here are in radiowave ablation. We also recommend vein glue for ectatic veins (over 1.2 cm), aneurysms and postphlebitic truncal varicose veins.
VenaSeal® ist first choice in treatment of truncal veins of the lower leg and truncal veins of GSV 3 – 4°. VenaSeal® is the much expensive of all endovenous techniques, thats why therapy of more than one truncal vein simultaneously is recommendable – we can treat 2 – 3 truncal veins with one catheter!
Closure rate of VenaSeal® compared to radiowave is same / better – also general vein diameter more than 2 cm is possible to be treating with glue.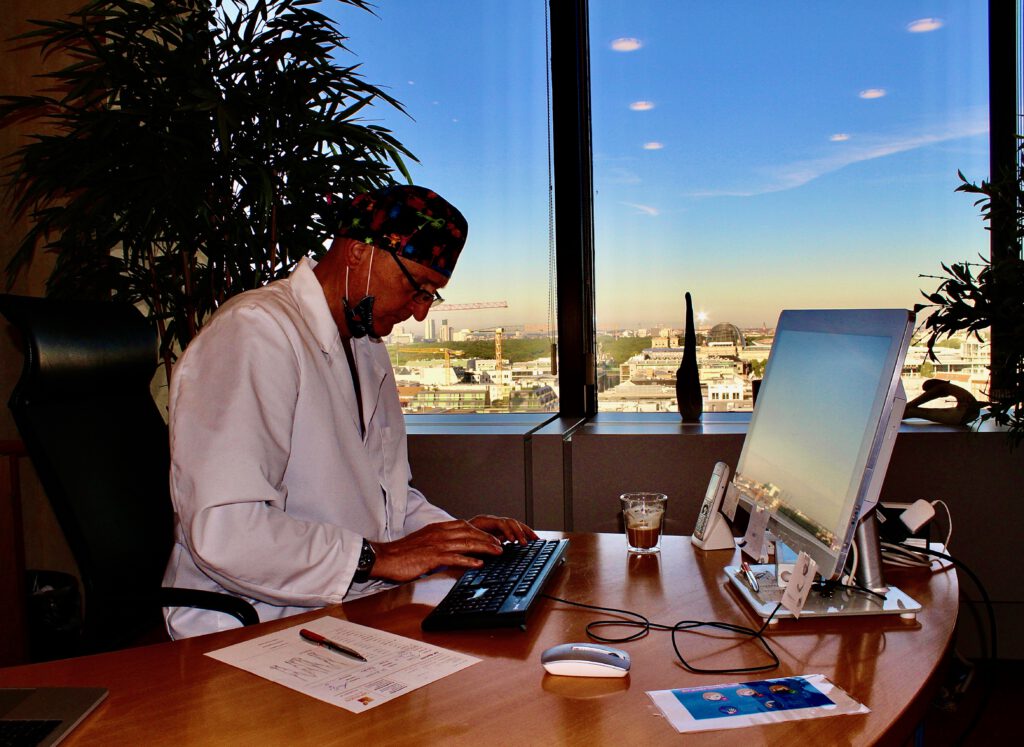 SaphenionPatientInfo: 8 Years VeinGlue – our conclusions
All the quality standards for endovenous therapy have been developed. All colleagues have secure quality criteria for all trans – catheter treatment methods. In contrast to most other methods VenaSeal® is performed without using thermal or mechanical energy – the side effects of laser or radiowave are not an issue.
The pain score compared to radiowave is significantly lower (1,3 – 3,4). We neither need general anesthesia or tumescence, nor do we need compression stockings. We can treat two to three truncal varicose veins simultaneously in one single session with one catheter.
After 18 years working with endovenous techniques: Our experience with endovenous therapy and especially with super glue VenaSeal® made it our basic therapy of truncal varicous veins! The thermal ablation is not out, but the way of therapy is much more differentiated.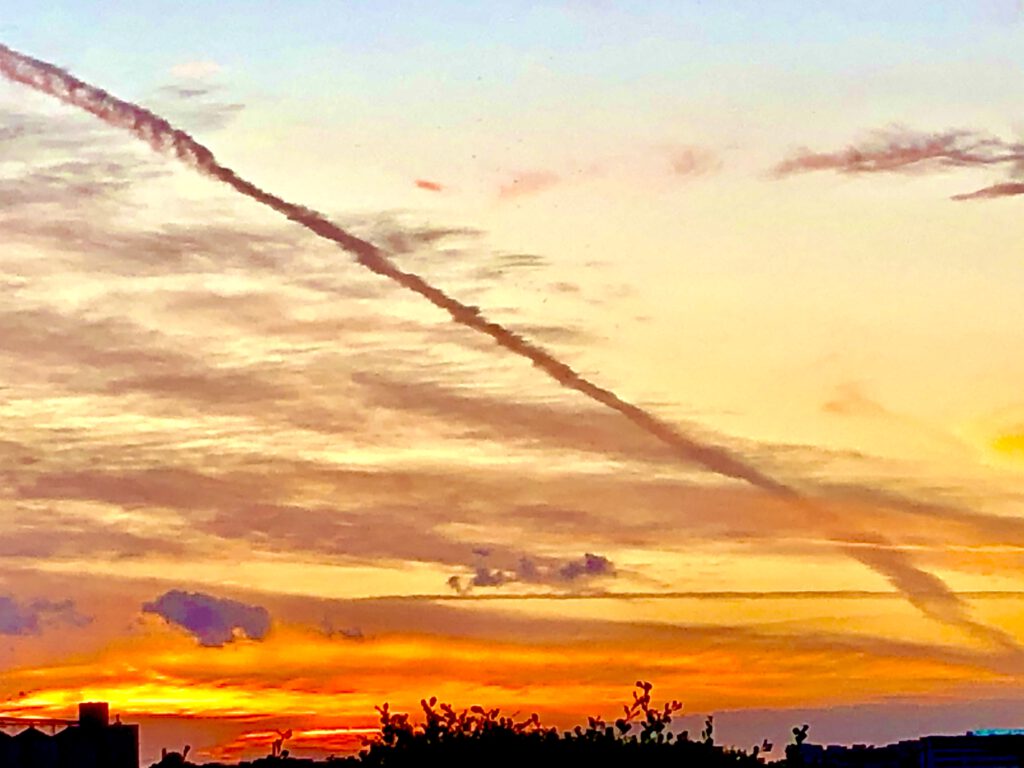 Photos: Sylvia Wagenknecht, Leo Z., Utzius
Paper / Links:
Gibson K, Minjarez R, Gunderson K, Ferris B. Need for adjunctive procedures following cyanoacrylate closure of incompetent great, small and accessory saphenous veins without the use of postprocedure compression: Three-month data from a postmarket evaluation of the VenaSeal System (the WAVES Study). Phlebology. 2019;34(4):231-237. doi:10.1177/0268355518801641
Kolluri R, Chung J, Kim S, et al. Network meta-analysis to compare VenaSeal with other superficial venous therapies for chronic venous insufficiency. J Vasc Surg Venous Lymphat Disord. 2020;8(3):472-481.e3. doi:10.1016/j.jvsv.2019.12.061
Morrison N, Gibson K, McEnroe S, et al. Randomized trial comparing cyanoacrylate embolization and radiofrequency ablation for incompetent great saphenous veins (VeClose). J Vasc Surg. 2015;61(4):985-994. doi:10.1016/j.jvs.2014.11.071
Park I. Initial Outcomes of Cyanoacrylate Closure, VenaSeal System, for the Treatment of the Incompetent Great and Small Saphenous Veins. Vasc Endovascular Surg. 2017;51(8):545-549. doi:10.1177/1538574417729272
Park I, Kim D. Correlation Between the Immediate Remnant Stump Length and Vein Diameter After Cyanoacrylate Closure Using the VenaSeal System During Treatment of an Incompetent Great Saphenous Vein. Vasc Endovascular Surg. 2020;54(1):47-50. doi:10.1177/1538574419879563