Missionpossible: Ethan Hunt und Venenkleber
Missionpossible: Ethan Hunt und Venenkleber – Was würde Ethan Hunt, der Agent aus Mission Impossible, alles mit dem Venenkleber machen?
Wir denken, sehr viel!
Der Venenkleber VenaSeal ist ein seit 2011 zugelassenes Therapieverfahren für Stammkrampfadern. Gleiche Zulassung gilt für die seit 22 Jahren durchgeführten Laser- und Radiowellen – Katheter.
Für den ärztlichen Anwender diese minimalinvasiven Verfahren stellt sich bei der täglichen Arbeit immer wieder die Frage:
Was alles kann ich mit den endovenösen Katheterverfahren bei der Beinkrampfadern behandeln. Kann ich Verbindungsvenen, Stammvenendopplungen und auch Einmündungen von Seitenastkrampfadern effektiv verschliessen?
Diese Fragen stellen uns die Kollegen, die die klassische radikale Op-Technik des Herausziehen von Venen noch praktizieren und bewerben.
Diese Frage stellten wir uns aber auch selbst, kommen wir doch fast alle auch aus der klassischen Venenchirurgie…..
Missionpossible: Ethan Hunt with the VenaSeal® – System
What would Ethan Hunt, the agent from the film Mission Impossible, like to do with the VenaSeal – System? We think – a lot!
The vein glue VenaSeal® is a since 2011 approved therapy method for truncal varicose veins. The same applies to the laser and radio wave catheters, which have been in operation for 18 years. For these minimally invasive practitioners, the question arises in their daily work: What can I treat with the endovenous catheter procedures in the leg varicose veins. Can I effectively block connecting veins, trunk veins, side branches and junctions?
These are the questions that our colleagues, who still practice the classic radical op – technique of stripping and extracting veins, ask us.
But we also have asked ourselves this question, as we almost all come from classical venous surgery …..
Missionpossible: Ethan Hunt und Venenkleber – Anwendungsbeispiele für den Venenkleber
Im Folgenden möchten wir kurz die erweiterten Anwendungsmöglichkeiten des Venenklebers bei der Anwendung in der Krampfadertherapie illustrieren:
Missionpossible: Ethan Hunt and Vein Glue: Examples for possibilities in therapy.
In the following we want to show You the extended possibilities of using Sealing Glue during the normal treatment of a truncal varicose vein: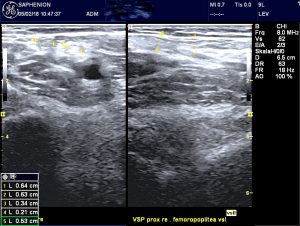 Missionpossible: Ethan Hunt und Venenkleber – Befunde nach der Therapie.
Befund einer Parvavaricosis und folgend einer Femoropoplitealvaricosis: Ultraschall in Höhe der Krosse mit Darstellung der Verklebung des Parvastumpfes und des ersten Femoro – popliteal Venensegmentes.
Ultrasound picture of a SSV – varicosis and a femoro -popliteal varicosis: The ultrasound picture nearly the junction shows the sealing stump of the SSV and the sealed first part of femoro – popliteal vein.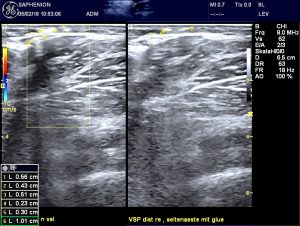 Missionpossible: Ethan Hunt und Venenkleber – Befunde nach der Therapie
Befund einer verklebten V. saphena magna am Unterschenkel, zusätzlich auch Verklebung einiger Seitenäste am Abgang und unter der Haut. Diese Verklebung wurde mit dem standardisierten VenaSeal-Protokoll erreicht.
Picture of a sealed GSV at the lower leg, additional sealed side branches at the junction and subcutaneously. These treatment was following the standardized VenaSeal protocol.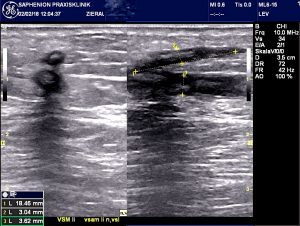 Missionpossible: Ethan Hunt und Venenkleber – Befunde nach der Therapie.
Venaseal® – Therapie beider grossen Saphena – Venen und der linken Parvavene simultan. Während des normalen Klebemanövers an der Saphena magna li. konnte auch die abgehende Saphena akzessoria anterior mediales (VSAM) durch Abgabe eines zusätzlichen Klebertropfens (0,09ml) in die Einmündung der VSAM über einer Länge von 2,7 cm effektiv verschlossen werden.
VenaSeal® – therapy of both GSV and left SSV, during therapy of GSV also ablation of VSAM junction with one more drop of glue (0,09ml) directly in the junction. So we can also close the first part of the VSAM (2,7 cm) effectively.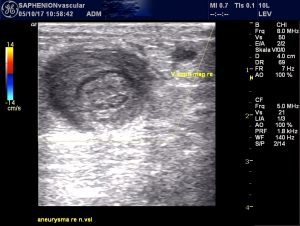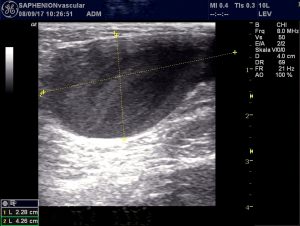 Verschluss eines Magna – Aneurysmas mittels Venenkleber.
Sealing a GSV aneurysm with VenaSeal.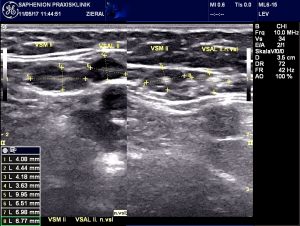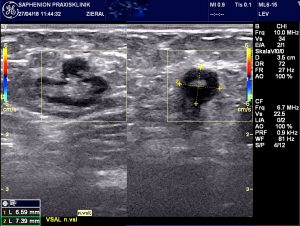 Missionpossible: Ethan Hunt und Venenkleber – Befunde nach der Therapie
Therapie einer Magnastammvene in der Venenfascie und einer Magnadopplung direkt unter der Haut (subkutan) liegend – Laser oder Radiowelle hier nicht möglich.
Sealing of GSV and double GSV in subcutaneous anatomic situation – laser or radio wave are not possible in this situation.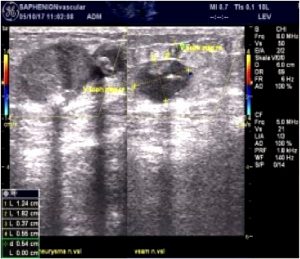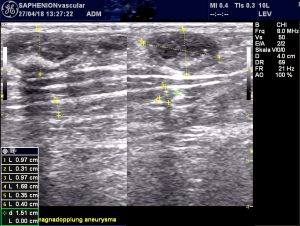 Missionpossible: Ethan Hunt und Venenkleber – Befunde nach der Therapie.
Venenkleben bei eines Mündungsaneurysma der Vena akzessoria anterior und der Saphena magna crossennah.
Sealing aneurysmatic VSAL and GSV nearly the common junction.
Verkleben eines Rezidivs der Saphena magna in der Leiste (REVAS) nach inkompletter Stripping – OP der Magna-Venen, der Stamm war in der Leiste insuffizient unterbunden worden, zahlreiche Seitenäste zogen zur Krosse.
Sealing of a REVAS of inguinal junction after incomplete stripping of GSV with insufficient ligation and some new side branches to the junction.
Missionpossible: Ethan Hunt und Venenkleber – der Venenkleber hat große Möglichkeiten.
Das Venenkleben an sich ist nicht neu, bereits in den 30er – 60er Jahren wurde mit Hilfe von Zuckerlösungen eine Verklebung von Stamm – und Seitenastkrampfadern durchgeführt. Allerdings ist erst mit der Einführung des VenaSeal® – Systems 2011 eine wirklich effektive und sichere Verklebungung der Stammvaricosis möglich geworden.
Inzwischen wird dieses Verfahren weltweit eingesetzt und viele kluge Venenspezialisten (Gefäßchirurgen, Dermatologen, Radiologen und Angiologen) haben in der täglichen Arbeit mit dieser Methode kreative Modifikationen und erweiterte Einsatzmöglichkeiten für sich entdeckt.
Weit mehr als 130 000 Patienten wurden inzwischen mit dem VenaSeal®-System behandelt.
Die oben vorgestellte Auswahl technischer Möglichkeiten zeigt sicher nur einen kleinen Teil der vorhandenen Möglichkeiten des Verfahrens.
Allerdings wird hier auch deutlich, dass ein intelligenter Einsatz des Venenklebers die Laser – und Radiowellentherapie bei der Einsatzbreite übertreffen kann.
Ethan Hunt is sure – Sealing veins has great possibilities.
The technique of sealing veins itself is not new, as early as the 30s – 60s, with the help of high concentrated sugar solutions, a sealing of truncal varicose veins and varicose side branches was performed. However, it was not until the introduction of the VenaSeal® – System in 2011 that a truly effective and safe fixation of the truncal varicose veins became possible.
Meanwhile, this method is used worldwide and many clever vein specialists (vascular surgeons, dermatologists, radiologists and angiologists) have discovered in their daily work with this method creative modifications and extended applications for themselves.
Today much more than 130 000 patients worldwide have got the therapy with this VenaSeal®-System.
The selection presented above certainly only shows a small part of the available possibilities of the method.
However, it should also become clear here that intelligent use of the vein glue can outperform laser and radio wave therapy in terms of its range of application.
Photos / Videos
Saphenion, Utzius, Madlin, Claudia
Links / Papers
https://www.ncbi.nlm.nih.gov/pubmed/32063522?dopt=Abstract
Gibson et al.: Twenty-four-month results from a randomized trial of cyanoacrylate closure versus radiofrequency ablation for the treatment of incompetent great saphenous veins.
Ivanova, Patricija: Post procedere neuropathy: comparison of surgery, EVLA and glue; Presentation on 2nd. NEEF, Riga, 17th.August 2019.
Lawson J, S Gauw, C van Vlijmen, P Pronk, M Gaastra, M Mooij, C Wittens: Sapheon: the solution? Phlebology 2013;0:1-8
Morrison, Nick, and Kathleen Gibson: Veclose Study: Preliminary Month 1 Data; 2nd Annual Cyanoacrylate Embolization Symposium, Mainz, Jan. 18, 2014
Proebstle TM, Alm J, Rasmussen L, Dimitri S, LawsonJA, WhiteleyM,, Franklin IJ, Davies AH: The European Multicenter Study On Cyanoacrylate Embolization Of Refluxing Great Saphenous Veins Without Tumescent Anaesthesia And Without Compression Therapy. eScope – study; Abstract presented to the American Venous Forum Annual Meeting 2013, Phoenix ( AZ) the USA
Rasmussen LH, Bjoern L, Lawaetz M, Lawaetz B, Blemings A, Eklof B.: Randomised clinical trial comparing endovenous laser ablation withthe stripping of the great Saphenous vein: clinical outcome and recurrence after 2years. Eur J Vasc Endovasc Surg 2010;39:630 – 35
Thum, J: Single Center Erfahrungen aus 234 Stammvenenbehandlungen mit viskösem n – Butyl – 2 – Cyanoacrylat- Verwendbarkeit, Akzeptanz, Ergebnisse; vasomed 1, 2019; 28 – 31
Üdris, Ints: 6 years single center results "Baltic Vein Clinic" of truncal varicose vein sealing; Presentation on 2nd. NEEF, Riga, 17th. August 2019.
Zierau U Th.: Venenverklebung versus Radiofrequenztherapie bei Varicosis – Verlaufsstudie über 36 Monate mit 1139 Behandlungen. vasomed 28 (2016) 212 – 216.
Zierau U Th.: http://www.saphenion.de/news/konsensus-1-neef-endovenoese-krampfadertherapie.
http://vascular-endovascular-therapy.imedpub.com/venaseal-in-varicose-veinshistopathological-changes-of-tissue-and-veins.pdf
Jones AD, Boyle EM, Woltjer R, Jundt JP, Williams AN. Persistent type IV hypersensitivity after cyanoacrylate closure of the great saphenous vein. J Vasc Surg Cases Innov Tech. 2019 Aug 7;5(3):372-374. doi: 10.1016/j.jvscit.2019.05.004. eCollection 2019 Sep. PubMed PMID: 31440717; PubMed Central PMCID: PMC6699189
Navarro-Triviño FJ, Cuenca-Manteca J, Ruiz-Villaverde R. Allergic contact dermatitis with systemic symptoms caused by VenaSeal. Contact Dermatitis. 2019 Oct 31. doi: 10.1111/cod.13431. [Epub ahead of print] PubMed PMID: 31674037.
Almeida JI, Murray SP, Romero ME. Saphenous vein histopathology 5.5 years after cyanoacrylate closure. J Vasc Surg Venous Lymphat Disord. 2019 Jul 4. pii: S2213-333X(19)30325-7. doi: 10.1016/j.jvsv.2019.04.014. [Epub ahead of print] PubMed PMID: 31281102.
Park I, Kim D. Correlation Between the Immediate Remnant Stump Length and Vein Diameter After Cyanoacrylate Closure Using the VenaSeal System During Treatment of an Incompetent Great Saphenous Vein. Vasc Endovascular Surg. 2019 Oct 3:1538574419879563. doi:10.1177/1538574419879563. [Epub ahead of print] PubMed PMID: 31581906.
http://evtoday.com/2017/04/three-year-veclose-data-and-1-year-waves-data-presented-for-medtronics-venaseal-closure-system
http://www.ncbi.nlm.nih.gov/pubmed/?term=veclose
http://www.ncbi.nlm.nih.gov/pubmed/27052039
http://www.ncbi.nlm.nih.gov/pubmed/23482526
https://vsearch.nlm.nih.gov/vivisimo/cgi-bin/query-meta?query=venaseal&v%3Aproject=nlm-main-website
http://www.accessdata.fda.gov/scripts/cdrh/cfdocs/cfmaude/detail.cfm?mdrfoi__id=4841327